Greece agrees new spending cuts to keep bailout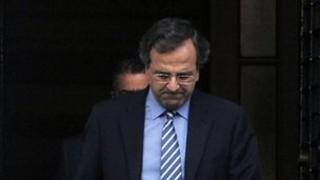 Leaders of Greece's fragile coalition government have agreed 11.5bn euros (£9bn) in new spending cuts needed to keep its EU/IMF bailout.
The cuts were required for Greece to qualify for the next 31.5bn euro instalment of the 130bn euro loan.
Without the funds, Greece would face bankruptcy and probably leave the euro.
The deal came after the two junior coalition parties shelved demands for an immediate renegotiation of the bailout terms to delay the cuts.
Conservative Prime Minister Antonis Samaras has argued that Greece must regain credibility before it can ask its international creditors for an extension to its 2013-4 austerity deadline.
"The prime minister said that it must be accepted - as a necessary condition for our country to remain in the eurozone and to be able to negotiate further - to cut public spending by another 11.5bn [euros]," Finance Minister Yannis Stournaras said after the meeting.
"That position was accepted."
He said the government would finalise the cuts by the end of August and would seek to "minimise the social effects".
The austerity measures are expected to include new reductions in state benefits and pensions.
Fairness
The leader of the socialist Pasok, the second-largest party backing the government, said he had temporarily set aside demands for an immediate renegotiation in order to avoid early elections.
Crisis jargon buster
Use the dropdown for easy-to-understand explanations of key financial terms:
AAA-rating
The best credit rating that can be given to a borrower's debts, indicating that the risk of borrowing defaulting is minuscule.
"If the prime minister feels that immediately adopting the measures worth 11.5bn euros will safeguard future loan releases and the country's place in the euro, I am forced to accept his view," Evangalos Venizelos said.
Both he and Fotis Kouvelis, leader of the the third coalition party, the Democratic Left, said they would continue to fight for a renegotiation, and insisted that the burden of the cuts should be fair.
Greece's "troika" of international creditors - the EU, International Monetary Fund (IMF) and European Central Bank (ECB) - have said they will not release the next bailout payment if they are not satisfied by next month that Greece has made sufficient progress in implementing spending cuts and economic reform.
The country has received two massive bailouts - one for 130bn euro this March and one for 100bn euro in May 2010 - to allow it to continue payments on its vast public debt and stay in the eurozone.
Cuts in public spending, benefits, pensions and public sector salaries imposed as as result of both loans have led to severe economic hardship.
Last week, Mr Samaras said Greece would suffer a much deeper recession than thought this year, with the economy shrinking by 7%, rather than the 5% originally forecast.