ECB's Draghi obliged to disappoint as Germany holds out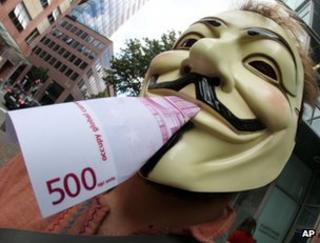 In the end, perhaps, it was inevitable that Mario Draghi would disappoint. It was never clear, when he said that he would do "whatever it takes to preserve the euro", that he had a plan in place.
What we got were hopes and promises. The euro was "irreversible", he insisted. That, in the world where economics meets politics, can only be a wish. At one point the head of the European Central Bank (ECB) said "it [the euro] stays. It stays. It stays." The markets wanted much more than "don't bet against the euro".
So no immediate action. More a strong hint that, once the right mechanism is in place, the bank will buy the bonds of Spain and Italy in the "coming weeks", but not just yet.
That fell short of a commitment to intervene immediately and any action appears dependent on European governments drawing on their bailout fund as well, but Spain and Italy have shown no inclination to call on the current bailout fund, the EFSF, to buy their bonds.
The hope seemed to be that the promise of future action would deter investors from shunning Italian and Spanish debt. Mr Draghi said the ECB would consider other emergency measures in the weeks to come. But nothing is a done deal.
Disappointment
The Bundesbank was opposed to the ECB once again buying government bonds. Perhaps the most important message from today's meeting was that German objections have clearly not been overcome.
Tom Rogers from Ernst and Young said that "the setting up of committees to examine how the ECB could bring down borrowing costs, while remaining in the ECB remit, is probably the best that could be achieved".
The markets were disappointed. The borrowing costs for Spain and Italy went up. Spain's borrowing costs were back above 7%. Others, however, believed a marker had been put down that signalled a change of policy down the road.
The interest rate was left unchanged.
Italy's Prime Minister Mario Monti had this week been on a kind of momentum tour, trying to stoke up pressure on the Germans to fall in behind Mario Draghi's promise to act. He spied light at the end of the tunnel for the eurozone. His optimism was misplaced.
And even if Mario Draghi had intervened in the markets immediately it would only have bought time. For Spain and Greece, and probably Italy, can only be saved if their debt is lowered and growth returns. For the moment these countries are in recession, with the problems deepening.
The challenge is not just about keeping down borrowing costs but how to revive economies that increasingly look locked into a cycle of decline.