Hundreds attend Maeve Binchy funeral in Dublin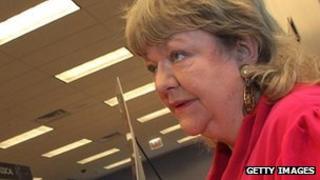 Hundreds of mourners have attended the funeral of journalist and celebrated novelist Maeve Binchy in Dublin.
The service took place at the Church of the Assumption, in Dalkey, Co Dublin.
The 72-year-old writer, who died on Monday evening after a short illness, was to be privately cremated after the funeral service.
Father William Stuart told the congregation they each had their own memory of the 72-year-old storyteller.
"There isn't a person here or beyond here who cannot recall her infectious personality," he said in his homily.
"A river of ink has been used this week to remember her."
Laughter filled the Church of the Assumption as the priest recalled how Ms Binchy once made a generous contribution to the church - but warned it could be spent on anything except statues or holy pictures.
Fr Stuart said Ms Binchy had not been a religious person in a traditional sense, and died not having come to know God.
But he suspected that once she had got her bearings in heaven, she began to talk to the Almighty.
"And she's still talking to the Almighty, and she'll go on talking to the Almighty for a very long time," he joked.
"Lord you called her, you can listen to her," he added, to a loud applause.
Ms Binchy's works were often set in Ireland and have been translated into 37 languages.
After working as a teacher and then a journalist with the Irish Times, Ms Binchy published her first book, Light a Penny Candle, in 1982.
She went on to sell 42m books worldwide during a 30-year career, becoming one of Ireland's best-selling writers.
Among the mourners on Friday were Oscar-winning actress Brenda Fricker, who starred in the screen versions of some of Ms Binchy's books.
'Natural storyteller'
Tributes have poured in from the world of politics and literature since Ms Binchy's death, including from President Michael D Higgins and Taoiseach Enda Kenny.
Fellow novelist Jilly Cooper paid tribute, saying Binchy was "a natural storyteller".
"She was a darling - I'm very, very sad," she told Radio 4's Today programme.
"She was so kind and funny and captivating, and was a brilliant writer."
Other authors have paid tribute on Twitter, with Ian Rankin tweeting: "Maeve Binchy was a gregarious, larger than life, ebullient recorder of human foibles and wonderment."
Marian Keyes wrote: "I'm so so sad to hear that Maeve Binchy has died. She was so full of life, so funny, so interested in people, so kind and so good to all of us writers, who came after her.
"She was a beautiful generous person and a beautiful generous writer."
Cathy Kelly tweeted: "The world is truly a darker place without the golden light of lovely Maeve Binchy. We'll all miss her genius."
Irish President Michael D Higgins said he was "deeply saddened" by Binchy's death.
"She was an outstanding novelist, short story writer and columnist who engaged millions of people all around the world with her fluent and accessible style," he said.
"She was a great storyteller and we enjoyed her capacity to engage, entertain and surprise us."
In a 2001 interview with the BBC, after she had won the WHSmith Book Award for fiction, Binchy described the five rejections she received for her first novel as "a slap in the face".
She said she was glad she persevered and sent the book to a sixth publisher.
"It's like if you don't go to a dance you can never be rejected but you'll never get to dance either," she said.
The author said that her secret was to write the way she spoke.
"I don't say I was 'proceeding down a thoroughfare', I say I 'walked down the road'. I don't say I 'passed a hallowed institute of learning', I say I 'passed a school'.
"You don't wear all your jewellery at once," she went on. "You're much more believable if you talk in your own voice."
In 2000 Binchy was ranked third in the World Book Day poll of favourite authors - ahead of Jane Austen and Charles Dickens.
The writer received a lifetime achievement award from the Irish Book Awards in 2010, the same year her last novel, Minding Frankie, was published.
She published a personal message on her website thanking fans who had praised the work.
"My health isn't so good these days and I can't travel around to meet people the way I used to," she wrote.
"But I'm always delighted to hear from readers, even if it takes me a while to reply."
She is survived by her husband Gordon Snell, her brother William and her sister Joan.