Italians snap beach umbrellas shut in anger at EU law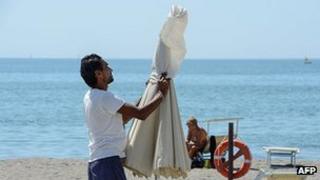 Beach umbrellas have been kept closed along big stretches of Italy's coast in a protest against EU competition rules.
The symbolic protest on private beaches lasted for several hours on Friday.
The beach operators are against changes under the EU Services Directive aimed at liberalising their licences. The EU says licence auctions must be made transparent to keep criminals out.
The operators say the new rules, backed by the Italian government, threaten the jobs of some 600,000 resort workers.
The EU rules, expected to become law in 2016, will affect about 30,000 private beaches that cover around a quarter of the Italian coastline, the AFP news agency reports.
Supporters of the protest say private beaches offer a clean, efficient service to the public, while critics complain that entry charges are too high.