One of 'al-Qaeda' trio held in Spain jailed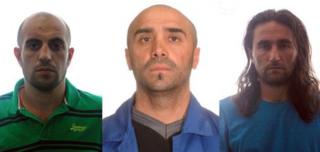 A judge has jailed one of three suspected al-Qaeda members held earlier this week in southern Spain.
A Turkish suspect was sent to jail for possession of explosive materials at the address where he was arrested. It is not clear if he will face trial.
The other two suspects of Chechen origin will be kept in custody while police continue investigations.
The arrests are part of one the biggest international operations against al-Qaeda to date, Spanish officials say.
The three are thought to have been planning an attack in Spain or elsewhere in Europe, according to the Spanish Interior Minister Jorge Fernandez Diaz.
The material seized at the Turkish man's flat was sent for testing but is thought to be enough to "destroy a bus", Mr Diaz told reporters on Friday.
The suspect denied all knowledge of the explosive substances in court, according to Spanish media reports.
He also said he had befriended the two Chechen suspects in Turkey and that they had come to Spain for the purpose of seeking asylum, the Spanish El Pais newspaper reports.
In March, Spanish police arrested a suspected al-Qaeda member in the eastern city of Valencia on terrorism charges.
They said he ran one of the world's most important jihadist forums dedicated to online recruitment and propaganda operations.
The man, a Jordanian-born Saudi Arabian citizen, was known within al-Qaeda as "the librarian", Mr Diaz told reporters at the time.
In March 2004, an al-Qaeda linked bomb attack on four packed commuter trains in Madrid killed 191 people and injured 1,841 others.