Aer Lingus records rise in passenger numbers year-on-year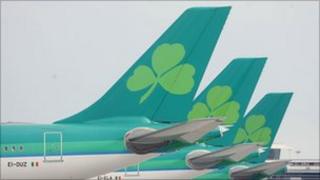 The total number of passengers who flew with Aer Lingus in July has risen by 2.1% to 1.1m, compared to year.
Short haul passenger numbers fell by 1% to 905,000 while long haul passenger numbers rose by 2% to 99,000 in July.
The airline's mainline passenger numbers were down 0.7% to 1,004,000.
The figures include the number of people who also flew on Aer Lingus Regional. It flies routes such as Cork to Bristol and Knock to Birmingham.
Those routes showed a 40% increase in passenger numbers to 105,000.
The airline said there was also an increase in how full its flights were last month, up 2.1 points to 86.6%.
Its short-haul load factor rose by 2.4 points to 85.1%, while capacity decreased by 1.9%.
The long-haul load factor increased by 1.5 points to 89.9% with no change in capacity.