EU calls urgent talks on row between Belarus and Sweden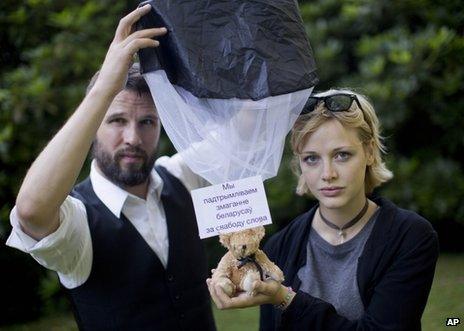 The EU is to hold urgent talks on Friday over the diplomatic row between Belarus and Sweden, which followed a political stunt involving teddy bears.
Belarus effectively expelled Swedish diplomats after a Swedish PR firm parachuted toy bears bearing pro-democracy messages over its territory.
Sweden responded by taking action against diplomats from Belarus, one of Europe's most authoritarian states.
It is thought that new EU sanctions may be discussed in Brussels on Friday.
The ex-Soviet republic has been subject to EU sanctions since 1996, two years after Alexander Lukashenko became president.
More than 200 Belarusian individuals are currently barred from entering the EU and their assets have been frozen by EU banks.
Twenty-nine companies linked with three businessmen closely associated with Mr Lukashenko are also subject to sanctions.
Belarus will be the only subject on the agenda of the EU ambassadors' meeting on Friday, an unnamed official in the European diplomatic service told the European Voice news website.
Washington has condemned the expulsion of Swedish diplomats, saying the action only served to deepen Belarus's "self-isolation". It called on Belarus to immediately release and rehabilitate all political prisoners, and end "the repression of civil society and the democratic opposition".
"Recalling the EU ambassadors for consultations [to their home capitals] is the minimum that we can do," the source said.
"The situation has seriously escalated and this would be a natural step."
Swedish Foreign Minister Carl Bildt said last week that Ambassador Stefan Eriksson, who took up the post in Minsk in 2008, was being expelled because of his advocacy of human rights and meetings he had with the Belarusian opposition.
After President Lukashenko recalled the Belarusian ambassador from Stockholm, Sweden said his replacement would be unwelcome and cancelled the residence permits of two Belarusian diplomats.
Belarus then gave Stockholm until 30 August to remove all of its diplomats from its territory.
Mr Lukashenko sacked his air defence chief and head of border guards after the incident on 4 July when some 800 bears were dropped from a light plane.
He told their replacements not to hesitate to use force to stop any future air intrusions from abroad.
Belarus's KGB state security service also arrested two Belarusian men on suspicion of involvement in the stunt. One of them is said to have merely uploaded photos of the teddy bears.
Hannah Frey, a Swedish woman who says she piloted the plane which dropped the teddy bears, told the BBC's Russian Service that a total of four people had been involved in the stunt, all of them Swedish nationals.
She denied any knowledge of the Belarusian nationals currently under arrest.
Related Internet Links
The BBC is not responsible for the content of external sites.