Irish Brother Colm O'Connell trains Kenya's Olympic champions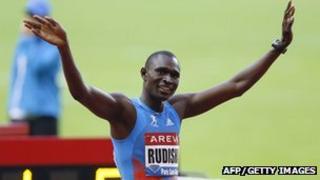 Team Ireland is celebrating its first gold medal at London 2012, thanks to boxer Katie Taylor, but the Irish also had an unlikely part to play in another, very special Olympic victory on Thursday.
Kenyan athlete David Rudisha, who took gold in the 800m final, also became the first athlete to set a new world record on the London track.
The 23-year-old is the product of a highly successful training regime set up by an order of Irish missionaries and headed by a 63-year-old Catholic religious brother from County Cork, Colm O'Connell.
Rudisha stormed to the finishing line in a time of 1:40.91 and the blistering pace he set helped to pull all but one of his fellow 800m finalists to a personal or national best.
For some, what he achieved was overshadowed by the colourful exploits of a victorious Usain Bolt, but not for Lord Coe.
'Greatest'
Before the race, the London 2012 boss, who twice won silver in the same event, described him as "the most impressive track and field athlete at these games".
After the race, Lord Coe said it would go down as "as one of the greatest Olympic victories".
Rudisha is the latest in a long line of world and Olympic champions produced by a training regime first set up at a Kenyan boarding school.
St Patrick's High School, in Iten, was established in 1961 by Patrician missionaries from Ireland.
The school for boys was built on "a bleak hillside" overlooking the Rift Valley and set about establishing a world class track and field record.
Brother Colm O'Connell joined the staff in 1976 on a three-year contract but eventually became headmaster of the school.
More than 35 years later, he has now retired from teaching but is still coaching some of the world's fastest athletes.
Understated
He is credited with helping runners such as Rudisha and his compatriot Peter Rono on their path to Olympic glory.
At the Seoul Olympics in 1988, 21-year-old Rono, became the youngest ever winner of the Olympic 1500m, beating Britain's Steve Cram.
Despite the success of his proteges, the brother appears to shun the limelight and has never attended an Olympic Games or World Championships.
In an interview with the Independent newspaper in January, Brother O'Connell said he was not intending to break the habit by travelling to London either.
"When David won the 800m in Daegu (the 2011 World Championships) I was downstairs here - leaning against the bar, watching it on television."
The latest achievement is also marked in a understated way by simple message on the school's website.
It reads: "St. Patrick's High School Iten board of governors, students, staff and alumni congratulate David Rudisha for his word-breaking performance at the London 2012 Olympics.
"Thanks for making Kenya and, specifically, St. Patrick's Iten very proud."