Poland holds European dog frisbee championships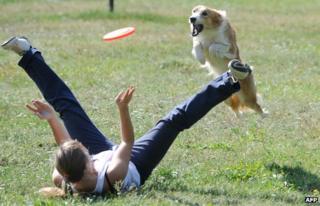 It is not an Olympic sport and cannot rival London 2012 but Poland is proudly hosting the European Dog Frisbee Championships for the first time.
Two hundred teams are competing in the western city of Poznan and the winners will be announced on Sunday.
The five events include Super-Pro Toss and Fetch, Small Dog Freestyle and Dog Diving, Polish national radio reports.
It says border collies are thought the best frisbee catchers, yet an American mongrel is one of the world champions.
Points are awarded for length of throw and the dogs' precision in catching the frisbee.
In the freestyle event the competitors' two-minute routines are assessed for artistic impression, the news website Rzeczpospolita reports.