French police make first arrests over riot in Amiens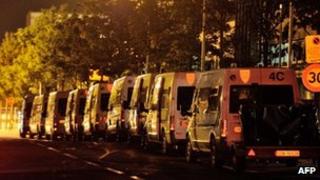 Police in the northern French city of Amiens have detained five people, two of them minors, in the first arrests to be made since Monday night's riot.
Four of the arrests were made in the city's run-down northern district, where rioters destroyed property and 16 police officers were injured.
Announcing the arrests, the city's prefecture said inquiries continued.
A police source told AFP news agency thermal imaging from a helicopter had helped identify rioters.
The riot, in which a nursery, a leisure centre and cars were burnt, shocked France, reviving memories of the 2005 unrest on deprived housing estates dominated by immigrant communities.
Interior Minister Manuel Valls was jostled and jeered when he visited Amiens with a heavy police escort on Tuesday.
Incitement to rebellion
One of the five people arrested is a suspected ringleader of the rioters and has been charged with incitement to rebellion, a serious crime under French law which can be punished by a prison term of up to 10 years if the perpetrator was armed at the time of the offence.
Other charges levelled against the detainees include arson, robbery and trafficking stolen goods.
Some 250 police officers have been patrolling the district since Tuesday, including 100 riot police equipped with water cannons. Normally about 30 police officers patrol the area, officials were quoted as saying by Reuters news agency.
It is still unclear what provoked the violence, which caused damage to public buildings estimated at 6m euros (£4.7m; $7.4m).
The event has been seen as the first major security challenge for the new Socialist government.
The Socialists heavily criticised the domestic policies of their conservative predecessors during this year's presidential and parliamentary election campaigns.