Legal action threat for non-payment of Republic's household charge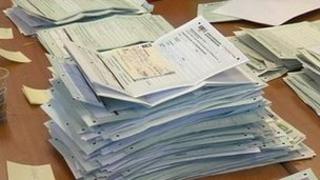 Homeowners in the Republic of Ireland who have not paid a 100 euros household charge have been warned they will face legal action.
The state body responsible for collecting the payment said a second warning letter was in the process of being sent out to those who have not yet paid.
The Local Government Management Agency (LGMA) said legal action against non-payers could begin with months.
Speaking on RTE, LGMA chief executive Paul McSweeney said they were reluctant to take legal action, but would do so if necessary.
"Letter number two will be going out now to landlords. Certainly we would expect that after three letters, some action is going to need to be taken," he said.
"To be honest, we're not really interested in doing that. We want to provide local services.
"Taking people to court, or prosecuting them, that's not the business we're in. We are in the business of supplying local services to communities."
The flat rate charge is the first tax on domestic property since rates in the Republic were abolished in 1997.
The government said the money collected via the charge would be used to provide services at a local level.
People based in Northern Ireland who also own a home in the Republic are also liable to pay the charge.