Collins coins mark anniversary of IRA leader's death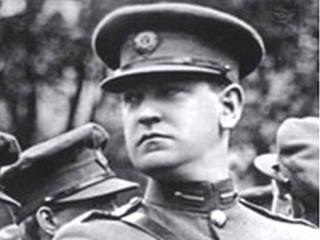 Two commemorative coins have been launched to mark the 90th anniversary of the death of Irish revolutionary leader Michael Collins.
The 20 euro gold and 10 euro silver coins have been issued by the Central Bank of Ireland
Collins led the IRA during the War of Independence.
He was shot dead at Beal na mBlath, County Cork, on 22 August 1922.
The coins were designed by artist Thomas Ryan and feature a portrait of Collins on one side, and a harp on the other.
Michael Collins played a central role in co-ordinating IRA forces in the fight against the British.
He was part of the Sinn Fein delegation that negotiated the treaty leading to the foundation of the Irish Free State.
Collins fell victim to anti-treaty forces in the subsequent Civil War.
In April 2012, Collins was runner-up to George Washington in a National Army Museum poll to find Britain's greatest enemy commander.