Russian bloggers criticise Audi car gifts for Olympic medallists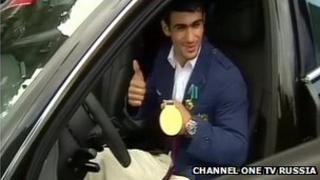 Russian internet users are unimpressed by President Vladimir Putin's award of a brand new Audi car to each medal-winning Russian athlete who competed at the London Olympics.
Russian TV showed the cars lined up near the Kremlin on Wednesday: an Audi A8 for each gold medallist, for silver an Audi A7 and for bronze an Audi A6.
The ceremony prompted bloggers on LiveJournal, Russia's most popular internet forum, to wonder why taxpayers' money was being used to purchase foreign-made gifts, the presentation of which was seen as a publicity stunt for the authorities.
Foreign cars
User "cassandrack" acknowledged that the gifts were "well deserved", but added: "Why are the gifts considered to come from the president? The money isn't his - the cars have been bought using our taxes, so these gifts are from all Russians. Second, why are they giving them foreign-made cars?"
Many bloggers and Twitter users were not impressed with the athletes receiving Audis, rather than Russian-made cars. However, there was notable sarcasm in their comments on the topic, given the generally poor reputation of Russian-made cars.
LiveJournal user "constant77" said: "What a laugh it would be if they were given [Lada] Kalinas and Grantas :)"
Meanwhile, blogger "glyukomor" deplored the lavish nature of the ceremony, which took place on Red Square.
"Why the big show? Okay, good work, they deserved it - so come to a dealership and pick up the car. Most athletes were probably uncomfortable with all that mega-showmanship," the LiveJournal user commented.
That comment prompted another blogger with the alias "dimonart" to ironically suggest: "How else could the government show its beloved Russians that it cares about sport?"
Gold medal perks
Blogger "Sergeyuko" was disappointed with the "materialistic patriotism in contemporary Russia", illustrated by the handsome federal payments that medal-winners receive (between $65,000 and $135,000 per medal, according to RIA Novosti news agency), and the other perks, such as cars and flats.
"It is telling evidence of the very nature of the 'patriotism', 'national love' and other propagandistic nonsense", the blogger wrote.
To this, user "311208" responded: "Generous gifts point to the great importance of the event for the reigning people and their henchmen. They are trying to cover up their insecurities before the West with splendid gifts."
BBC Monitoring selects and translates news from radio, television, press, news agencies and the internet from 150 countries in more than 70 languages. It is based in Caversham, UK, and has several bureaux abroad. For more reports from BBC Monitoring,click here