Patrick Ricard of global drinks firm Pernod Ricard dies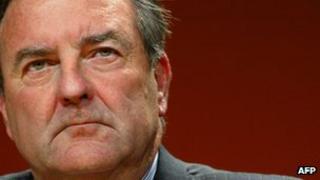 Patrick Ricard, the French head of the global spirits company Pernod Ricard, whose father founded the Ricard firm, has died at the age of 67.
The firm said Mr Ricard had passed away on Friday. French media reports suggested he had heart problems.
Paul Ricard founded the company, which began selling the anise-flavoured liqueur pastis, in Marseille in 1932.
His son transformed the firm into the second largest wine and spirits company in the world.
He spent his entire career within the family firm and took over leadership as chairman and CEO in 1978, at the age of 33, just a few years after it had merged with its arch-rival, Pernod.
Patrick Ricard made a series of acquisitions beginning with bourbon maker Wild Turkey, in 1981, followed by Irish Distillers, then brands including whisky-maker Chivas and cognac producer Martell.
He led a buyout of UK-based competitor Allied Domecq in 2008.
The expansion into foreign markets transformed the firm into a major global player generating sales of 7.6bn euros ($9.35bn) in 2011, with some 18,000 staff worldwide.
Mr Ricard, who was named European businessman of the year by the US magazine Fortune in 2006, was married with three children.