Six on trial over southern Russia village murders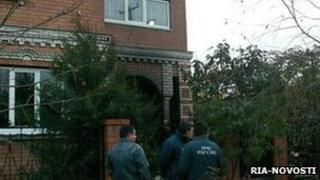 Six people have gone on trial in Russia, accused of carrying out a massacre in a village in the south of the country.
Twelve people, some of them children, were killed in a house in the village of Kushchevskaya in November 2010.
Alleged members of a local criminal gang were charged with the killings.
Those on trial in the city of Krasnodar include Sergei Tsapok, whom prosecutors say is the head of a gang that terrorised the village for 10 years.
A businessman and former local politician, he is accused of abduction, rape and murder. He denies all the charges against him.
The BBC's Steve Rosenberg, in Moscow, says that the Kushchevskaya crime shocked the whole of Russia.
Some of those at the house were stabbed and others shot or strangled during the killings, which happened after nightfall on a Russian holiday.
Following the massacre, there were reports from other Russian towns and villages of intimidation, harassment and brutality by criminal gangs.
At the time, then President Dmitry Medvedev criticised police and other government agencies for "negligence", saying that in some cases they had direct ties with criminal groups.