Putin 'death plot': Ukraine halts extradition to Russia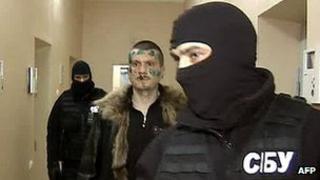 Ukraine has postponed the extradition to Russia of a Chechen man suspected of plotting to kill Russian leader Vladimir Putin earlier this year.
Ukrainian officials plan to wait until the European Court of Human Rights in Strasbourg has considered Adam Osmayev's appeal against extradition.
On 27 February Russian TV reported that Mr Osmayev and another suspect had been detained in Ukraine's port of Odessa.
Mr Putin, who was PM at the time, won a third presidential term on 4 March.
Chechen separatist militants hold Mr Putin and his ally, Chechen President Ramzan Kadyrov, responsible for human rights abuses in Chechnya.
Ukraine's foreign ministry spokesman, Oleksandr Dikusarov, said that "Ukraine, indeed, has suspended the procedure of extraditing Adam Osmayev".
Quoted by Interfax news agency, he said the decision followed a message from the European Court saying it would consider Mr Osmayev's appeal.
Mr Osmayev's lawyers took his case there after a Ukrainian appeals court rejected their request to halt the extradition.
The lawyers say extradition to Russia would put him at risk of torture and mistreatment, and that would breach the European Convention on Human Rights.
Both Ukraine and Russia have signed the convention, which the Strasbourg court polices.
'Hired assassins'
According to the February report on Russia's state-owned Channel One TV, the attack was to happen after the 4 March presidential vote.
Mr Osmayev and another suspect, Ilya Pyanzin - reportedly from Kazakhstan - were detained after an explosion in an Odessa flat in January.
A third man, Ruslan Madayev, died in the blast and Mr Pyanzin was injured.
In the TV footage, the two suspects admitted plotting to attack Mr Putin. Mr Pyanzin said he had been hired by Madayev and Chechen militant leader, Doku Umarov, to carry out the killing.
Adam Osmayev was said to have been on an international wanted list since 2007.
The plotters were planning to plant mines on Kutuzovsky Avenue in Moscow, used by Mr Putin on a daily basis, the report said.
Mr Pyanzin told police that he and Madayev had flown to Ukraine from the United Arab Emirates via Turkey, with precise instructions from representatives of Doku Umarov.
The Ukrainian judiciary has not yet decided whether to extradite Mr Pyanzin to Russia.