Greek debt crisis: Your views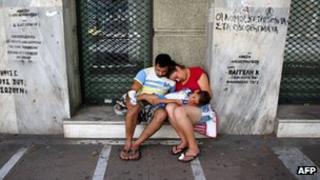 The Greek government has asked its eurozone partners for more time to make the spending cuts needed to meet the terms of its financial bailout.
Greece's European partners are insisting on the cuts in return for continued financial support for the indebted country.
Here, BBC News website readers in Greece give their reactions.
Nikos Gkiatas, Thessaloniki
The Greek government needs to bring the deficit under control, curb public spending, cut red tape and invest in the local economy.
I run a small consulting firm. Four years ago we employed six people. Now there are only two members of staff. Our cash-flow projection remains uncertain. Some of our clients are not in position to pay for our services and we have lost money as a consequence.
We are leasing office space, our working capital is depleted, the price of petrol at the pumps remains high and I'm struggling to meet overheads.
The state is failing and we have been failed by this government. Prime Minister Antonis Samaras has not negotiated with our European partners to have Greece's stifling austerity measures relaxed.
I did not vote for New Democracy. I voted for the anti-austerity party Syriza. During the election, people were concerned that a vote for Syriza meant the end of our membership in the EU. This fear was unfounded. Greece is now in a worse position.
People are leaving the country in droves. Many of my friends have gone or are planning to leave. If the situation does not improve, I will think about moving on as well.
I'm in my 30s and I still live at home with parents. Saving enough money for a deposit on my own home seems like an impossible dream.
The knock-on effect of so many leaving is a growing sense of hopelessness and apathy. The newspapers are filled with stories about people losing their possessions. Most people have astonishing levels of personal debt.
One article estimates that more than 100,000 families could be made homeless. Everyone knows someone who is affected or who will be affected.
Greece is now a puppet state run from Brussels. We need to do the unthinkable and wrestle back power. We need to build our way out of recession and debt and invest in infrastructure and development. The focus should be on job creation.
If Greece leaves the EU then larger economies such as Spain or Portugal will be next.
Anna Giabanidis, Kythira
I work as a solicitor and I run a practice on the attractive little island of Kythira. The full extent of the economic crisis didn't hit us until last year.
Food prices suddenly shot up and my clientele, unable to pay my fees, introduced a barter system. Goods were exchanged for services.
It is an ingenious scheme which has strengthened community ties and encouraged self-sufficiency too.
Conversely, my work load has also doubled. The downturn has increased disputes over land and property on the island. Squeezed families are more prone to squabbling over how to divide up inheritances and a growing number of people have submitted fraudulent claims.
On the other hand, the work is incredibly rewarding, if not well remunerated, and I am happy to undertake work for the public good. It is one of the reasons why I returned to Greece three years ago.
I think the immediate priority for the Greek government should be to extricate itself from the EU. We should cut our losses and ditch the euro. Its demise is inevitable, and holding on to the single currency smacks of political desperation.
Our country has lost its sense of culture and identity on the long road to European unification.
It was the wrong path to take. A bailout was simply a plaster to cover a wound that is never going to heal. It is better to rip off the bandages, examine the injury and then administer the proper treatment, which for us is reverting to the drachma.
We cannot and will not pay our debts. Nor should we be held accountable for all the fiscal problems in the union. Other countries are equally to blame.
I hope our European partners have foresight and political will to write off all Greece bailouts. Once we leave and regroup I think our neighbours will be surprised by the speed of our recovery.
Paul Papadopoulos, Melissia
Greece will never emerge from this recession. The economy has shrunk and private investment has nosedived. There is no political will to make the necessary changes to our system of governance. Years of corruption and cronyism have destroyed the country.
Greece is like the doomed liner, the Titanic. It's heading straight for an iceberg and it is too big to manoeuvre and push itself out of danger.
Our politicians need to be audacious and trim the fat and reduce the number civil servants on over-inflated salaries. The state needs to be smaller.
I don't think you don't need to be a professor of economics to understand the stupidity of the conditions imposed on Greece.
If you loan money to a country under conditions that paralyse its economy, how can you expect that economy to function and its people to be able to repay that loan.
I'm 64 years old and I'm still working. I'm an engineer for a Greek shipping company. It is a satisfying job, but I cannot retire just yet and I cannot afford to relocate. The global economic crisis has deeply affected our business, more so than the downturn in Greece.
We have based our entire economy on the euro and if we revert back to the drachma I'm finished. My wife receives a miserly pension, which has been cut by 30%. It is not enough to live on.
Who would want to grow old here when the future is so bleak?
Dora Tsepa, Athens
I work as a French teacher in a private school in Athens. My family is fortunate. My partner and I both work. A few weeks ago my colleagues and I were told that savings needed to be made across the school.
To help the process, we were asked to accept a scaled pay cut of 25% to avoid forced redundancies.
Unfortunately, the price of food has not changed and my salary does not go far enough. My mother is retired and she receives a pension of 370 euros (£290) a month. It is appallingly bad. She has been forced to rely on family and on her savings to subsidise her income.
I'm not optimistic about receiving a pension when I retire. It is a frightening situation. There are so many people who seem to fall through the huge cracks that have opened up as a result of our fiscal problems - the elderly, the unskilled, and the sick, and jobless young graduates.
I know people who have been forced to sell their jewellery to pay bills or visit a soup kitchen for a hot meal. I have two small children to support and I'm concerned about their futures. Money for the education system and hospitals were not ring-fenced and their budgets have been slashed.
At this stage I think my husband and I would consider leaving Greece if we lost our jobs.
Greece has a poor track record of solving its own problems. What we need is an injection of fresh blood. The first step would be to recruit the brightest, sharpest political tacticians, preferably Greek diaspora who want to come home and make a difference.
Secondly, our government needs more time to impose austerity measures. Hopefully our European partners will grant us this time.
Interviews by Elisabeth Ukanah