Fire crews tackle blaze at hotel in County Donegal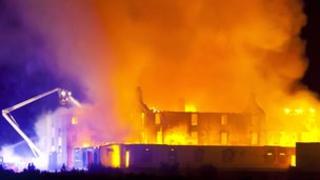 Irish police have begun an investigation into a fire at a disused hotel at Buncrana in County Donegal.
The fire that destroyed the Lough Swilly Hotel began at around 24:00 BST on Tuesday night.
Fire crews worked through the night to bring the blaze under control.
The hotel has been closed since the 1980s.
The Lough Swilly Hotel was opened in 1867 and was a popular landmark in the area.
Former Garda Sergeant P.J. O'Halloran was an eye-witness. He described the fire as an inferno.
"The flames were going up at least 40 feet and all they could do was contain it from a distance," he said.