Norway's Roros keeps reindeer recipes under wraps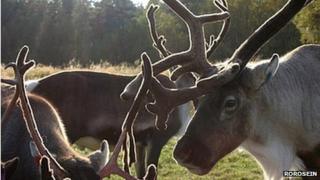 Scandinavian cooking has been taking the world by storm and the town of Roros provides some of its most highly prized ingredients. But its refusal to sell them on the world market means only very few will ever get to taste them.
Nestled on a stack of of freshly sliced beetroot, the tender reindeer steak is drizzled with a sour cream and black pepper sauce and accompanied by buttery almond roast potatoes.
The recipe belongs to Swedish celebrity chef Mikael Forselius, who moved to Roros five years ago.
"If you shut your eyes, you should feel and taste the things that the animals have eaten," he says.
"Find the herbs from the mountains and the minerals and berries. The exact choice of ingredients is mine but this kind of food has been made here for centuries and it is my mission to continue that tradition."
In fact, all of the food served at his restaurants comes from within just a few kilometres of Roros, 386km (240 miles) from Oslo, in eastern Norway. The town is close to the Swedish border and has a population of just 3,500.
Salmon and trout swim in the cold, clear river that skirts the main shopping street, which is dotted with cafes serving cheeses, jams and beer-infused flatbreads.
Norway's indigenous South Sami community herd the reindeer that roam the surrounding mountains.
Miners to Michelin stars
Until recently, Roros was most famous for being one of Europe's oldest preserved wooden towns, becoming a Unesco World Heritage site in 1980.
For Scandinavians it also has cult status after recording a temperature of −50.4C (−58.7F) in early January 1914, the coldest weather documented outside Arctic Norway.
But now the town is developing a new reputation as one of Scandinavia's leading destinations for locally produced, "short-travelled" food.
It has picked up numerous national prizes for its sour cream and cheeses.
Eggs from Roros help make up the menu at the six-time winner of Norway's Best Breakfast award - the Rica Nidelven Hotel in Trondheim, the city closest to Roros.
Norwegians also associate Roros with an unusual soured milk called Tjukkmjolk that has been produced in the former copper mining town for centuries.
"It was the first local product in Norway to get some kind of legal protection," says Mr Forselius.
"You can only produce it in this region in the traditional way. It has the same kind of status as Parma ham, feta cheese or Champagne. We want it to become just as famous around the world."
'Meet my hens!'
But there is a huge potential stumbling block in his mission to promote Tjukkmjolk and his wider dream to turn Roros into the region's most famous culinary destination - local producers refuse to export their products.
"People from other countries are very welcome to taste our food but we prefer them to do it here," says Ingulf Galaen, who runs a farm called Galavolden Gard.
"They can come and meet my hens and meet my cows!"
He shrugs his shoulders at the mention of carbon footprints linked to long-distance travel.
Galavolden Gard is part of an association of local businesses that co-operate to ensure consistent pricing and to guarantee that food produced in Roros does not stray too far outside the region.
"I support the producers," says Mr Forselius. "We need people to come here to eat the ingredients so they can feel the atmosphere and get told the right stories about the food."
There are a few exceptions. Some ingredients are sold to the Danish restaurant Noma, which has taken the top spot in a list of the world's best 50 restaurants for the past three years.
A handful of leading restaurants in Oslo and Stockholm have also been granted access. But their expensive menus put off many Scandinavians, let alone international tourists.
Tasty tourism
Despite Roros's export limitations, it is already gaining some global recognition.
In April 2012, it won a prestigious sustainable tourism prize from the World Travel and Tourism Councils, following a similar Best Destination award from Responsible Travel in 2011.
Norwegian tourism website Statistikknett estimates that there are around 140,000 overnight stays in the town a year.
"I first visited this place 17 years ago and the traditional restaurants were definitely not cool!" remembers Mr Forselius.
"It was only older folk who came here to eat but now that's not the case. Now it has become trendy and young people are helping us to promote Roros."
His own infectious enthusiasm and profile will no doubt also play a crucial role in gaining positive coverage for the town.
Numerous television appearances across Scandinavia have already made him a celebrity chef. He is known for transforming the diets of Norwegian premier league side Rosenborg, in his previous job as food and beverage manager for the club.
He even took footballer David Beckham to pick mushrooms when he was visiting with Real Madrid.
Culinary competition
But despite this high-level support, Roros faces tough competition from numerous other beauty spots across Scandinavia, which are also reviving old culinary traditions.
Jamtland, in north-western Sweden, is home to Faviken, a 12-seater restaurant on a hunting estate which joined Copenhagen's Noma on this year's World's Best 50 Restaurants list.
Denmark's second-largest island, Funen has also been grabbing the attention of gourmets who are also drawn to its mills, inns and gardens.
On Roros's Rorosrein reindeer farm, farmer Magne Haugom admits he has some mixed feelings about his town's increasing popularity.
"The animals can get disturbed by tourists coming to look a them and that means they don't eat properly. Every time a new holiday cabin is built it means some of our nature is disappearing."
But his South Sami wife Eva Nordfjell says most visitors are respectful.
"When people come here we teach them that we have our own language, costumes and handicrafts. We show them that our living is based entirely on producing reindeer meat."
She believes theirs is the best food in Scandinavia.
"We eat Roros reindeer meat ourselves, every day, all the time. If we go without for just two days we know we need to eat it again!"