Dublin Airport taxi drivers strike: Agreement reached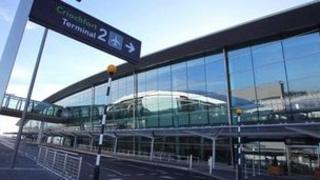 An agreement has been reached between Dublin Airport Authority and representatives of taxi drivers following overnight talks.
Taxi drivers at Dublin Airport had been on strike since Wednesday afternoon and were refusing to pick up passengers.
The row centred on a reduction by 70 spaces in the taxi holding area of the airport.
A meeting is due to take place on Friday when drivers will be briefed on the contents of the agreement.
The talks began at about 17:30 BST on Thursday and ended at about 06:00 BST on Friday.
About 400 drivers took part in three slow driving protests on Thursday, leading to severe traffic congestion in and around Dublin Airport.
Taxi unions wanted the authority to return all 70 spaces that had previously been available for taxis working in the airport.
However, the Dublin Airport Authority insisted there was enough parking for drivers without them.
It said the reduction in spaces was for commercial reasons.
.