Pussy Riot name daubed 'in blood' at Russia murder site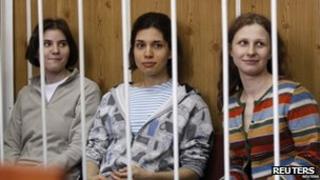 Graffiti calling for the release of three jailed members of punk band Pussy Riot has been found at scene of a double murder in Russia, say police.
Two women aged 76 and 38 are believed to have been killed last week in an apartment in the central city of Kazan.
The words "Free Pussy Riot" were daubed on the wall above their bodies, "presumably" in blood, investigators said.
There was no immediate indication of a motive or any link to the band.
In televised remarks, the deputy head of the Kazan Investigative Committee, Andrei Shepitsky, said the killer may have been "trying to avoid suspicion" by using the band's name and misleading police.
He told the RIA Novosti agency that the apartment had been ransacked, indicating the killer was under the influence of drink or drugs or was mentally ill.
The women - a mother and daughter - had suffered multiple stab wounds.
A lawyer for the jailed band members distanced his clients from the murder and said the use of their name could have been an attempt to discredit their supporters.
"What happened in Kazan is horrible," Nikolai Polozov said on Twitter.
"Pussy Riot always stood for peaceful protest. This incident is either a huge provocation or the actions of a crazed man," he said on Twitter.
Maria Alyokhina, Nadezhda Tolokonnikova and Yekaterina Samutsevich were convicted earlier this month of hooliganism motivated by religious hatred, after performing a protest song in Moscow's Christ the Saviour cathedral in February. They were sentenced to two years in prison.
The women said their "punk prayer" was a protest against the government of President Vladimir Putin and the support he enjoys from the leader of the Orthodox Church.
Their case divided public opinion in Russia, and attracted widespread condemnation from the international community.