Naples beefs up anti-mafia forces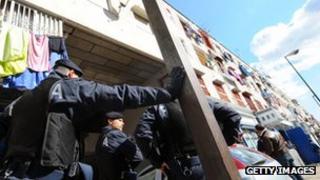 The Italian government has said it will send extra police to two Naples districts where a turf war between rival mafia factions has escalated.
Two sections of the Camorra crime gang are competing for control of two neighbourhoods where drugs are sold.
It is estimated the illegal market in the Scampia and Secondigliano areas is worth 100m euros (£79m, $126m) a year.
In recent months, 20 people have been killed during the battle for control over the neighbourhoods.
Cocaine clash
According to media reports, the rival groups both want control of a particular area where high quality cocaine is traded.
According to Italy's Il Sole 24 Ore newspaper, cocaine trade in a single area of one of the neighbourhoods alone - the Case Celesti - is worth 300,000 euros a day.
There are more than 30 areas across the Scampia and Secondigliano neighbourhoods where drugs are freely traded.
There has been a spike in the number of Camorra related killings as the Scissionisti clan and Di Lauro clan seek to wrestle control of the lucrative drugs trading areas.
One clan boss, Gaetano Marino, was shot dead in late August on a beach near Rome while on holiday with his family.
Marino, 48, reported to have headed the Scissionisti clan, was dubbed Stumpy after losing both his hands while reportedly planting a bomb in the 1990s.
His killing came a month after a similar attack in a public square in the coastal town of Nettuno, also south of Rome, when organised crime suspect Modestino Pellino was shot and killed.