Dutch budget cuts leave high arts in very low spirits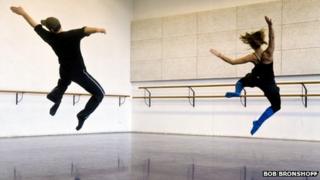 Forced to meet EU budget targets, the Dutch government has made sharp spending cuts - an unpopular move ahead of next week's election. Arts and culture are among the biggest casualties.
Inside an industrial-style tent, an audience of more than 1,000 have assembled. They stare in silent awe as six seductive dancers from Amsterdam's Internationaal Danstheater perform a tantalising tango.
This organisation used to receive almost 3m euros (£2.4m; $3.8m) in government subsidies.
But, under the latest round of budget cuts, designed to bring the deficit down to an EU-mandated 3%, the Internationaal Danstheater has lost 100% of its state funding.
Backstage the company's frustrated director, Sophie Lambo, shakes her head: "It's devastating."
She is still trying to figure out how they will survive.
"What stings is they promised to give more time to make this switch and see if we could show that we deserve this money," she says.
"Now they pull the plug because of the political situation we're in today."
Mannen van de Tango represents their first appearance at the popular Lowlands music festival. It is part of a strategy to connect with new culture-friendly consumers.
In the absence of government subsidies, they will be forced to generate greater demand just to keep their productions alive.
Serious threat
Dutch arts institutions have traditionally enjoyed generous subsidies. Clutching their plastic beer containers, a gaggle of festival goers say they feel the tight budget demands are threatening to kill their culture.
"I can't believe it's happening. A country does not only need economics and politics but also culture - you need all different aspects to be a country," says one of them.
"On the one hand I understand it because the whole country is in crisis, but on the other hand this is so fantastic, they should maintain it."
The Dutch culture budget of 800m euros has been slashed by 25%. Ms Lambo believes that ultimately, the wider Dutch society will feel the pinch too.
"When you cut something somewhere, in this case the arts, there is a whole area of entertainment - restaurants, bars, cafes - they will notice the effects," she says.
"A lot of people are going to lose their jobs and this will cost society even more in the end than if you subsidise it a little bit."
In one of Amsterdam's main arts districts, clusters of leggings-clad teenagers gather outside a building covered with posters advertising upcoming performances. This is the home of the prestigious Amsterdam School of Arts.
These Dutch theatre school students face a tough future with less cash to fund the industry they dream of playing a role in.
The school's director, Jet de Ranitz, believes it is future generations that will suffer the most.
"All the budgets and all the institutions that were geared towards the development of young talent are the ones that have to close shop, so it's going to have the most impact on new generations," she says.
'Leftist hobbies'
The Dutch government has been searching for ways to meet the targets - imposed by Brussels but signed up to by EU countries.
The previous centre-right government of Mark Rutte was seen as having little sympathy for the arts.
The populist Freedom Party who lent their support to the coalition dismissed the arts as "leftist hobbies". It is a phrase that caught on and many feel has damaged public perception of the value of culture in the Netherlands.
Culture Minister Halbe Ziljstra said he is too pre-occupied preparing for elections to discuss the cuts.
A few months ago he told me they had to find 16m euros worth of savings somewhere and the arts subsidies were seen as the least worst option.
During that interview, Mr Ziljstra argued there would be a national outcry if the government prioritised artists over nurses or police.
However, Ms de Ranitz thinks they are wrong not to recognise the role the arts could play in resuscitating the country's economic fortunes.
"It comes down to a balancing act: for Europe to have a future, creativity and innovation are a very important part of where our chances lie because all our factories have moved to other countries," she says.
"If we want to become a resilient society in the future and come out of this hole, then the arts are part of the solution."
A short distance from parliament a cosy crowd has congregated for the Haagse UIT festival, which marks the official start of the arts season.
The tree-lined street is decorated with canvas prints and empty pushchairs.
A makeshift white tent provides a group of part-time rockers protection from the impending showers. And, for now, the band plays on.