Letterkenny hospital sends smokers out to pavement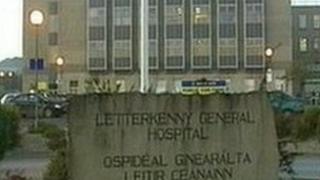 Letterkenny General Hospital has banned smoking anywhere on its grounds.
From Thursday, patients, staff and visitors to the County Donegal hospital must use the pavement outside the hospital if they want to smoke.
Some patients have said they feel the ban is unfair.
But Elaine Robinson, the hospital's specialist in smoking cessation, said that as a healthcare institution it can no longer be seen to promote smoking.
"Smoking is the most prevalent cause of illness and death in Ireland.
"Fifteen people a day die from smoking-related illnesses, and we must make inroads towards helping people quit.
"I think people will respect and comply with it, because it is for the benefit of patients."
But some patients said they were worried about others having to walk to the pavement to smoke.
"I think it's a disgrace. If a patient wants a smoke and goes out to the far gates, no nurse is allowed with them.
"What if something happens?
"And what about the poor patients in wheelchairs and drips, they'll have to go out too.
"If you're outside, it makes no difference. I can't see what the harm is if you're smoking outside in the fresh air."