Russia's Putin admits wildlife stunts are staged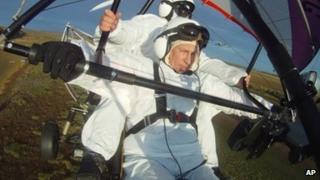 Russian President Vladimir Putin has admitted that some of his most dramatic wildlife stunts were staged.
Russian TV has shown videos of him tagging whales, saving a TV crew from a tiger and, most recently, taking to the skies to fly with Siberian cranes.
But, in an interview with an editor who lost her job after refusing to send a reporter on one of his trips, Mr Putin conceded some stunts were excessive.
He said the faked wildlife encounters highlighted animals under threat.
"Of course, there are excesses. And I'm annoyed about it," he told journalist and author Masha Gessen, in an interview published in Russia's Bolshoi Gorod magazine.
"But I thought up these tigers myself. Twenty other countries where tigers live also started doing this," he is quoted as saying, speaking of an incident four years ago when he shot a tiger with a tranquiliser gun when it appeared to be on the point of attacking a TV crew.
'Persecuted journalist'
"The leopards were also my idea," he added, apparently referring to a 2011 episode where he was shown frolicking with a rare snow leopard.
"Yes, I know, they were caught before, but the most important thing is to draw public attention to the problem."
Mr Putin's spokesman has already revealed that at least one of the stunts was a set-up but this is the first time that the president himself has spoken openly about the staged encounters.
The Russian president also reportedly offered Ms Gessen her job back. She edited a travel magazine until she was dismissed, she says, following her refusal to cover Mr Putin's trip to Siberia to fly with cranes.
Mr Putin's spokesman, Dmitry Peskov, told Reuters news agency that the report represented: "a correct account of the meeting except for some insignificant details".
Ms Gessen is also the author of "The Man Without a Face: the Unlikely Rise of Vladimir Putin", a book highly critical of the president.
She said that the president, alongside the magazine's owner, had asked her whether she really wanted to have her job back or whether she was comfortable in the role of "persecuted journalist".
Ms Gessen has refused the offer of her old role, saying that she does not want to work in a magazine where the editor-in-chief is appointed by the president.
Mr Peskov said she had initially agreed to take her old job back but changed her mind the next day.