Russian Duma expels anti-Putin MP Gennady Gudkov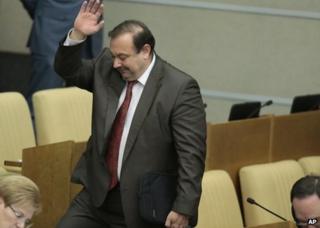 Russia's parliament has voted to expel an outspoken opponent of President Vladimir Putin by a two-to-one margin over alleged business dealings.
Gennady Gudkov, who joined mass protests against political corruption over the winter, denied the allegations and called the vote a farce.
He in turn accused pro-Putin MPs of pursuing business interests while sitting in the State Duma.
Analysts say the vote is being seen as part of a crackdown on dissent.
In recent weeks, members of the Pussy Riot punk group were hunted down, arrested and jailed, European affairs editor Tom Esslemont notes.
A protest leader, Alexei Navalny, was also put under virtual house arrest.
'This is a reprisal'
Criminal investigators are to take a decision on whether to prosecute Mr Gudkov later this month.
Mr Gudkov's decade-long parliamentary career was terminated by a vote and a fellow MP's cry of "Judus".
MPs voted 291-150 with three abstentions to expel the former KGB officer, who was once in Mr Putin's United Russia party before moving to rival party A Just Russia.
"You deprive me of lawyers, of cross-examination," he said in his last speech to the chamber.
"You deprive me of the possibility of asking questions and getting answers. And finally, you deprive me of the right to appeal. This is a reprisal. It is not a court. And what is happening today here, it's a shame for the country."
He added: "I received my mandate from the people, from hundreds of thousands of voters who voted for me, and only they can judge what kind of deputy I am."
Mr Gudkov's demise took some by surprise, our European affairs editor reports.
The moustachioed politician is better known for his straight talking than his radical politics but he became increasingly outspoken last year.
Shortly before the parliamentary elections in December, he accused United Russia of mounting an unfair campaign.
Mr Gudkov's fellow opposition protesters now say his expulsion may lead them to take more radical steps to secure political change.
However, they are also wary of the tactics being used to undermine their efforts, our European affairs editor says.