Turkey PM Erdogan says Kurdish PKK takes 500 casualties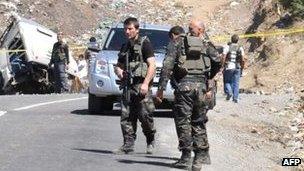 Turkey's Prime Minister, Recep Tayyip Erdogan, says 500 Kurdish rebels have been "rendered ineffective" by Turkish forces in the space of a month.
The government often uses the term "rendered ineffective" to mean killed.
Mr Erdogan said 123 militants were killed over the past 10 days near the south-eastern border with Iraq.
The surge in deaths follows a recent escalation in attacks by the militant Kurdistan Workers' Party (PKK) on Turkish targets.
Dozens of Turkish troops and civilians, including children, have been killed in recent bombings blamed on the group.
On Sunday, eight police officers died as their bus was blown up by a roadside bomb in the southern Turkish province of Bingol.
The PKK launched an armed campaign for an ethnic Kurdish homeland in south-east Turkey in 1984. Since then more than 40,000 people have been killed in the conflict.
The Turkish government, the US and the EU all regard the PKK as a terrorist organisation.
Mr Erdogan said: "In operations held during the past month, some 500 terrorists were rendered ineffective in the [south-east] region."
The Turkish army said last week that 461 people had been killed in clashes between February and August this year.
It said the military had staged close to 1,000 operations against the rebels over the last six months.