Deadly attack on troop convoy in eastern Turkey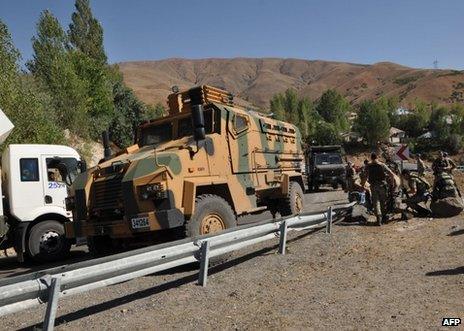 Militants have killed seven Turkish soldiers and injured at least 56 in a rocket attack on a convoy in the east, security officials say.
Most of the injured were reportedly on a bus which caught fire when the convoy was hit on a highway connecting the provinces of Bingol and Mus.
Injured soldiers were rushed to hospitals in the region.
The army has reportedly launched an operation against Kurdistan Workers' Party (PKK) rebels in retaliation.
Air power was deployed to back the operation, taking place in the larger Bingol area, the Turkish news agency Anatolia reports.
Two F-16 fighter jets took off from an air base in the south-eastern city of Diyarbakir after the attack, Reuters news agency said quoting a witness. Their destination was unclear.
Prime Minister Recep Tayyip Erdogan said this week that 500 Kurdish rebels had been "rendered ineffective" by his forces in the space of a month. The government often uses the phrase to mean killed.
The PKK has been fighting for an ethnic homeland in south-eastern Turkey since 1984. It is classified as a terrorist organisation by Turkey, the US and EU. In all, more than 40,000 people have died in the conflict.
Details have emerged of how the attack took place.
Militants hiding on the side of the road reportedly opened fire on the convoy with assault rifles at around 12:45 (09:45 GMT), sparking a gun battle with soldiers guarding the convoy.
Bingol's governor, Mustafa Hakan Guvencer, said a bus in the convoy had burst into flames after the attack but it was unclear whether the explosion had been caused by a land mine or a rocket-propelled grenade.
A village guard told Dogan he had visited the scene right after the attack, and saw no evidence of mines.
"They launched two rockets from a hill, hitting one of the vehicles," he said. "It went up in a ball of fire."
Three suspects were seen by witnesses driving away from the scene of the rocket attack in a car, and are believed to be travelling with explosives on board, Turkey's NTV private news channel reports.
Mr Erdogan specified that 123 militants had been killed over the past 10 days near the south-eastern border with Iraq.
PKK attacks on Turkish targets recently escalated. Dozens of Turkish troops and civilians, including children, have been killed in recent bombings blamed on the group.
A land mine blast killed eight police officers and injured nine in Bingol province on Sunday.