Santiago Carrillo: Spanish Communist and democracy leader dies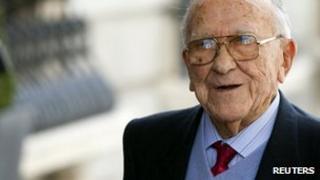 The former leader of Spain's Communist Party, Santiago Carrillo has died in Madrid at the age of 97.
Mr Carrillo was one of the last of the generation of Spanish politicians who saw action in the country's civil war, fighting on the losing Republican side.
He spent many years in exile in France, but returned following the death of General Franco in 1975 to play a key role in the transition to democracy.
The cause of his death was not immediately announced.
The BBC's Tom Burridge in Madrid said the death of Mr Carrillo marks the end of a chapter of Spanish history.
Born in 1915 in the northern city of Gijon in 1915, Mr Carrillo was politically active from a young age.
He joined the army in 1936 to defend the left-wing Popular Front government from the military uprising which saw Gen Franco come to power in 1939.
Gen Franco accused him of being directly involved in the killing of thousands of Franco supporters in 1936.
During the uprising, he was involved in an incident in which thousands of Franco supporters were marched out of Madrid to be interned at Paracuellos, to prevent them joining the army. The supporters were instead killed.
Mr Carrillo was a public-order official in Madrid at the time but has always denied being involved in the killings, saying they were the work of out-of-control troops.
After the civil war he fled to France, but continued to give support to the Spanish Communists, becoming the party's secretary general in 1960 before returning to Spain in 1975 and re-entering politics. He retired in 1991.
Our correspondent says those on both the left and right of Spanish politics respected him most for efforts to transform the far-left into a mainstream democratic force, which accepted the return of Spain's monarchy, says our correspondent.
He also refrained from seeking revenge for crimes committed both during and after the civil war, he adds, and will be remembered for helping put an end to Spain's divisive and violent past.
In a documentary in 2009, Mr Carrillo said that "if you can say anything good about me, it's that I have lived many years and actively participated in many episodes of Spain's history".