Convicted murderer Malcolm MacArthur granted temporary prison release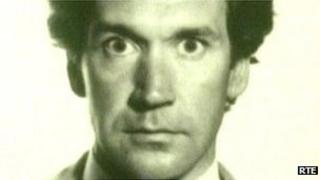 The convicted murderer Malcolm MacArthur has been granted temporary release from prison in the Republic of Ireland.
He had served 30 years for the killing of nurse Bridie Gargan in 1982.
The Department of Justice confirmed he left Shelton Abbey prison under a condition that he sign on weekly at a prison and be monitored by the probation service.
He had been granted day and weekend release over the past 12 months.
In January 1983, MacArthur was sentenced for the murder of Ms Gargan in Phoenix Park in Dublin.
He is one of the Republic's longest serving prisoners.
The case caused shock when impoverished Dublin socialite MacArthur was arrested at the home of the Irish Attorney General Paddy Connolly in August 1982, with whom he had been staying for some time as a guest.
The crime and its aftermath was described at the time by the then Irish Prime Minister Charles Haughey as "grotesque, unbelievable, bizarre and unprecedented," and the acronym GUBU passed into the Irish political lexicon.