Will new drive to beef up EU work?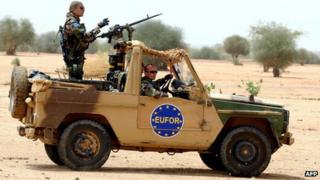 "We've been looking at how we can bring back confidence in the European Union," German Foreign Minister Guido Westerwelle said this week, as he arrived in Warsaw for a ministerial meeting of the 11-nation "Future of Europe Group".
They could also be about to open the proverbial can of worms.
A report produced by the 11 ministers is a radical blueprint for change, parts of which are bound to be controversial, in the UK in particular.
They asserted that closer economic and monetary Union is the immediate task, to try to head off the crisis of confidence in the eurozone.
Not much to argue with there.
But they want to go much further - proposing much more integration in foreign and defence policies, and a political re-organisation to reflect the closer union they advocate.
"We're looking at how to make Europe more democratic," said Polish Foreign Minister Radoslaw Sikorski. "We have concrete institutional proposals, and the direct election of the top leaders (of the EU) is one of those possibilities."
The report produced by the group will carry political weight.
As well as Germany and Poland, it includes Austria, Belgium, Denmark, France, Italy, Luxembourg, the Netherlands, Portugal and Spain. All of the big EU countries, in other words, except the UK.
European army plan
Some of the report's most striking proposals relate to the EU's international profile.
It suggests strengthening the EU External Action Service to give it more powers over a much wider range of issues.
It would be, in effect, the creation of a genuine European foreign ministry.
Crucially, it proposes majority rather than unanimous voting on common foreign policies, to prevent one state from being able to obstruct initiatives.
It also calls for a much more ambitious common defence policy, which could in the long-term include the creation of a single market for armaments projects.
"For some members of the Group" this could eventually involve a European army.
There are plenty of caveats, however.
It is clear that there are huge differences of opinion on both the degree and the pace of change. France is less keen than Germany on many aspects of closer integration.
A critical question over the next few years will be - in broad terms - how much sovereignty is France prepared to surrender in order to ensure that Germany remains Europe's paymaster.
The report followed hard on the heels of a speech made last week by the President of the European Commission, Jose Manuel Barroso, which made many similar points about the need for a step-change in thinking.
In his annual State of the Union address in Strasbourg, he called for the creation of "federation of nation states, not a superstate".
Both Mr Barroso and the "Future of Europe Group" argue that much can be done within the context of existing EU treaties.
Bitter arguments
But the commission has also promised to outline explicit ideas before the next European Parliament elections in 2014 on how to change the treaties to reflect closer union.
Treaty change which would transfer any powers to Brussels would automatically trigger a referendum in the UK and elsewhere. It could lead to similar votes in France, and even in Germany.
But British Foreign Secretary William Hague said on Wednesday that his government was not contemplating any transfer of power to the EU.
"We are comfortable with differing degrees of integration between different countries in the EU," he said. "That to us is the model that may have to be followed in the future."
But this is a debate fraught with political danger. It will reopen bitter arguments about the role of Europe in many countries, not just the UK.
It is a debate that some would seek to postpone for as long as possible.
But a substantial core of the EU, based around the eurozone, has decided that closer integration is a necessity if their single currency is to survive and if they want to make their collective voice heard effectively around the world.
Others will disagree: Britain may seek to redefine its relationship with Europe in quite different ways.
But this is a debate which is coming. The eurozone crisis has shown that the EU cannot simply stand still.