New ECB building in Frankfurt goes over budget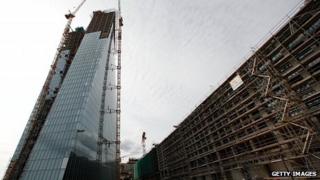 The budget for the European Central Bank's massive new headquarters in Frankfurt, western Germany, has risen above 1bn euros (£800m; $1.3bn).
The ECB announced the cost overrun at a ceremony on Thursday marking completion of the main structural works.
The original plan budgeted the project at 850m euros. But the ECB says costlier materials and unexpected site problems have inflated that figure.
The ECB's move is scheduled for 2014. The bank manages eurozone finances.
Currently it is housed in the Eurotower skyscraper in central Frankfurt.
The new twin-tower skyscraper is at Grossmarkthalle - site of Frankfurt's former wholesale market hall.
The building was designed by architects Coop Himmelb(l)au, who won the tender in 2005.