Customs seize illegal cigarettes at Dublin Port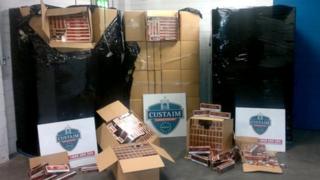 Customs officials have seized 7.6 million illegal cigarettes at Dublin Port.
The cigarettes, which had arrived from Zeebrugge in Belgium, had an estimated retail value of 2.9m euros, according to the Irish Revenue Commission's Customs Service.
The discovery was made during a routine scan of a shipment marked as furniture.
An Irish-registered commercial vehicle and a trailer were seized.
Irish customs officials have seized 80.8 million contraband cigarettes this year.
A spokesperson said investigations were continuing in the Republic of Ireland and internationally.