Czechs partially lift spirits ban after mass poisoning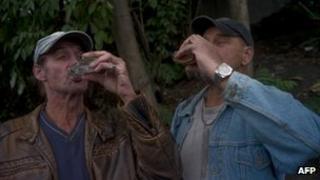 The Czech government has agreed to ease a ban on the sale of spirits containing more than 20% alcohol after a spate of poisoning that has left 26 people dead.
The ministers decided to allow sales of hard liquor manufactured before 1 January 2012.
The poisonings have been blamed on bootleg vodka and rum tainted with the industrial chemical methanol and sold cheaply at markets and outdoor kiosks.
Police have held more than 10 people and seized 5,000 litres of spirits.
Counterfeit labels have also been confiscated.
'No storming pubs'
The decision to partially lift the ban was taken at a cabinet meeting, with Prime Minister Petr Necas saying that it would take effect on Thursday.
The cabinet also said that spirits in storage would have to get a certificate of safe origin within 60 days or the bottles would be destroyed. Any newly-made spirits would need new government stamps.
But Agriculture Minister Petr Bendl warned that the move "does not mean that now everyone will storm pubs and start drinking everything that is at hand", the CTK news agency reports.
The ban was introduced on 14 September and covered all outlets including restaurants and hotels. Prague also later stopped exports under pressure from the EU.
The deaths - which began to emerge earlier this month - have been described as the Czech Republic's worst case of fatal alcohol poisoning in 30 years.
The BBC's Rob Cameron in Prague says that with the number of reported deaths slowing, attention is focusing on saving those who survived drinking the tainted alcohol and finding those who bottled it in the first place.
Detectives have suggested they are dealing with well-organised bootleggers, although the people at the very top of the organisation have so far eluded capture.
Meanwhile, about 30 people are being treated in hospital for methanol poisoning.
Some of those taken to hospital have gone blind and others have been put into artificial comas by doctors.