SIPTU members defer industrial action at DAA and Aer Lingus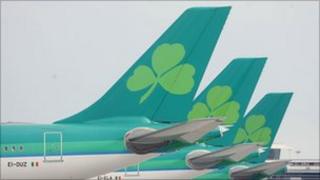 SIPTU members at Dublin airport and Aer Lingus have agreed to defer industrial action planned for Monday 1 October.
They have agreed to take part in talks at the Labour Relations Commission.
The decision followed a request by the LRC on Wednesday that SIPTU members defer their action and that the DAA and Aer Lingus withdraw legal and other threats against the union.
The dispute is over the staff pension scheme changes.
According to SIPTU Sector Organiser, Dermot O'Loughlin, the decision was made by the union's industrial action committees after five hours of discussions and despite strong criticism by members of the tactics of both employers.
"The SIPTU Industrial Action committees at Aer Lingus and the Dublin Airport Authority have reluctantly agreed to defer the action planned for Monday next and to attend the LRC," Mr O'Loughlin said.
"They have made this decision despite strong reservations over the negotiation infrastructure proposed by the LRC and the unnecessary tactics used by the employers over the last number of days."