German left's ex-minister Steinbrueck to face Merkel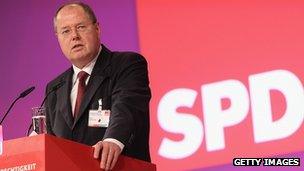 Germany's former Finance Minister Peer Steinbrueck will be the candidate of the opposition Social Democrats (SPD) to challenge Chancellor Angela Merkel in elections next year.
"I can pick up the maximum votes for the SPD," said Mr Steinbrueck, 65, as the centre-left party nominated him.
Earlier SPD leader Sigmar Gabriel and former Foreign Minister Frank-Walter Steinmeier had agreed not to run.
Mrs Merkel, a conservative, still has strong support, polls suggest.
Her handling of the eurozone debt crisis has boosted her popularity, with the SPD and Greens invariably supporting her plans in parliament despite criticisms.
Mr Steinbrueck told a press briefing: "I accept this challenge".
"We want to remove this government. We want to replace it with a Red-Green government," he said, referring to the Greens, who were coalition partners with the SPD under former Chancellor Gerhard Schroeder.
"This election campaign is a burden, but it's also fun," he said.
Mr Steinbrueck served as finance minister from 2005 to 2009, when the SPD was a junior partner in Chancellor Merkel's grand coalition.
Now Mrs Merkel's Christian Democrats (CDU) are in government with the liberal Free Democrats (FDP).
Mr Steinbrueck presented a plan earlier this week for "taming financial markets", highlighting it as a major issue in his party's campaign.
"This is not about destroying the financial system; rather, it is about stabilising it and preventing future excesses, and preventing any repeat of what we have seen in the last years," he said.
He has a reputation for being abrasive, which has not always endeared him to fellow Social Democrats.
As a minister, he once remarked that the SPD was "coming over to people as cry-babies" in the face of Mrs Merkel's popularity.
In 2008, he called for governments to use "the whip" against Switzerland in the fight against tax evasion - a phrase which irritated Swiss politicians.
Originally from the northern city of Hamburg, and a former premier of the state of North Rhine-Westphalia, he has never won an election for a major post.
However, political scientist Gero Neugebauer at Berlin's Free University told the Reuters news agency: "Steinbrueck is definitely the most dangerous candidate because he appeals to the voters in the middle."
A keen chess player, Mr Steinbrueck once said of his style on the board: "I often play very impulsively."