Russia oil sludge fire kills eight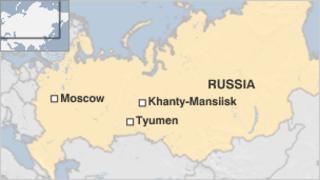 A huge fire at an oil sludge treatment plant in Russia has killed at least eight workers.
Several others were treated for burns following the blaze in western Siberia.
Investigators said the fire, at the plant owned by the Invest-Oil company, was caused by an explosion. It consumed an area of some 2,300 sq m (25,000 sq ft), officials said.
Industrial accidents are relatively frequent in Russia, which has a poor safety record.
Several of the injured were taken to intensive care with burns of various severity, a regional emergencies ministry spokeswoman told the AFP news agency.
The fire broke out early on Saturday at the oil-sludge processing plant located between the cities of Tyumen and Khanty-Mansiisk.
There was no threat to residential communities, the emergencies ministry said.