Turkey President Turgut Ozal's remains exhumed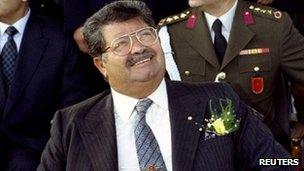 The remains of Turkish President Turgut Ozal have been exhumed from an Istanbul grave amid suspicions from family and associates that he was poisoned.
Coroners will now investigate whether poisonous substances are present in the remains of Turkey's eighth president, who died while still in office in 1993.
Ozal reportedly died of heart failure at an Ankara hospital, aged 65.
He was seen as a moderniser who led Turkey out of military rule and backed the US-led coalition against Iraq.
He introduced free-market economics to Turkey and also made efforts to secure peace with Kurdish militants, negotiating a ceasefire with the Kurdistan Workers Party (PKK) shortly before he died.
A state supervisory board established by incumbent President Abdullah Gul voiced suspicions in June, citing the lack of a post-mortem at the time of death, as well as missing blood test results.
So, amid heavy security and overseen by a team of forensic experts led by Istanbul's Chief Prosecutor Turan Colakkadi, mechanical diggers on Tuesday morning dug up Ozal's grave from a grand mausoleum in an Istanbul cemetery.
The autopsy is expected to be completed by the end of the week, when the remains would be returned to the Ozal family, forensic experts said.
But a full forensic report on coroners' findings is not expected to be available for at least two months - and may not be conclusive given the two-decade delay before the investigation.
After a period of military rule following a coup in 1980, Ozal served as prime minister from 1983-89, when he was elected president by parliament.
He survived an assassination attempt in 1988 when he was shot at during a party congress by a right-wing gunman.
In 2010, Korkut Ozal said his brother's 1993 death was the work of a nationalist network with senior military links known as Ergenekon.
Turkey's military has long seen itself as the guarantor of the country's secular constitution, analysts say.
It staged three coups between 1960 and 1980 and has a history of tension with the Justice and Development Party (AKP) of Prime Minister Recep Tayyip Erdogan.
Last month, a Turkish court sentenced three former army generals to 20 years in jail each for plotting a coup, convicting nearly 330 officers of involvement in the plot.
They were accused of plotting to bomb mosques and trying to trigger a war with Greece in order to justify a military coup against the elected government of Mr Erdogan in 2003.