Rome to fine tourists who linger at historic sites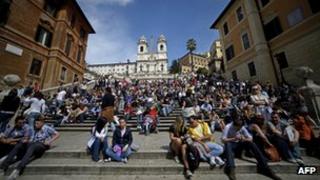 Rome says it will issue fines of up to 500 euros (£400) to people who stop to eat or drink, or "camp out" near the capital's historic monuments.
Rome's Mayor, Gianni Alemanno, announced the fines in an order aimed at protecting areas of particular cultural worth in the historic centre.
Those violating the ban face a minimum fine of 25 euros.
Local media quoted critics as saying that similar measures in the past had been ineffective.
Popular Roman sites such as the Spanish Steps, Piazza Navona, and the square in front of the Pantheon are often packed with crowds of tourists.
Mr Alemanno has said the measures are necessary to protect a heritage "universally considered as unique for its historic value and relevance".
He has said in the past that such sites should be used "exclusively as a place to enjoy monumental and architectural perspectives".
The ban will be in place until the end of the year.