One-day strike paralyses rail services in Belgium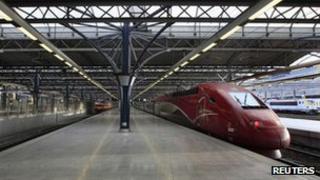 A 24-hour strike over rail sector reform has paralysed the network in Belgium, including high-speed services to London and Paris.
Tens of thousands of commuters had to take to the country's traffic-choked motorways but there were few reports of serious disruption.
Rail services are due to go back to normal on Thursday morning.
Trade unions say some 85% of staff joined the action to back a return to unified control over the rail grid.
They fear their employment conditions will be undermined under a new plan to revamp and streamline the three companies now overseeing rail traffic in Belgium.
SNCB, Belgium's state-owned rail company, was split into three in 2005.