Designer Gillier 'sorry' for China tourist remark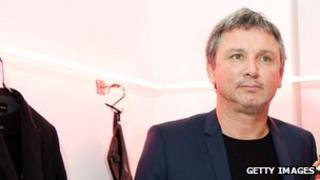 A French fashion designer has apologised for saying that Chinese holidaymakers will not be welcome at a luxury hotel he plans to open in Paris.
Thierry Gillier, founder of label Zadig and Voltaire, told the magazine Women's Wear Daily that his hotel "won't be open to Chinese tourists".
The statement caused outrage in China where his comments went viral on social networking sites.
Mr Gillier has said his comments were taken out of context.
"My remarks were doubtless clumsy... I understand they might have hurt my friends from China, France or elsewhere, and I am deeply sorry for that," he said in a statement on Thursday.
The statement added that Mr Gillier wanted to underscore the exclusivity of the hotel and emphasise that it would not cater for the mass tourism market.
Christian Fraser, the BBC's correspondent in Paris, said Mr Gillier had urged the magazine to modify his quotation from "Chinese tourists" to "busloads of tourists".
The Zadig hotel is due to open in 2014 on Paris's chic Left Bank.
Chinese angst
Writing on the Chinese microblogging site weibo, one user, Meng Deping, suggested Chinese people should show their anger by simply boycotting the hotel.
Another, Hu Jiang, said he was not surprised by the remarks but Chinese people would continue to visit European countries nonetheless.
There was a certain amount of angst among bloggers, too.
"Lots of janitors at China's big hotels look down upon fellow citizens," wrote Real Babe. "How can we blame the French for doing so too?"
Happy Snail said Chinese tourists needed to change "bad habits", adding: "Chinese commonly ignore warnings and try to take photos in art galleries, and talk loudly in restaurants."
"Every Chinese should reflect on the incident," wrote David. "Why are the Chinese not well received wherever they go? We need to think hard, particularly those government officials and businessmen."