Labour chairman appeals for unity after Roisin Shortfall resigns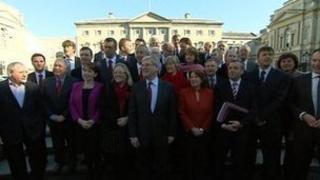 Irish Labour Party Chairman Colm Keaveney has appealed for party unity following the resignation of a junior minister.
In an internal email seen by RTÉ, Mr Keaveney said there is "another context" to recent events which the party leader has not yet been able to articulate publicly.
Roisin Shortfall resigned as junior health minister in September.
She cited a "lack of support" for health reforms as the reason for her resignation.
Mr Keaveney e-mailed Labour councillors and local representatives calling for party unity and acknowledged the internal concerns raised since Ms Shortall's resignation.
Following a meeting with the Tánaiste (deputy prime minister) and party leader Eamon Gilmore, Mr Keaveney said they had agreed to focus more on fixing the problems and seeking a way forward rather than trying to fix blame.
He said they have agreed to look at structural and other changes to improve communications.
Mr Keaveney appealed for party unity over the next few months, which he said will be the toughest of Labour's time in Government.