Monkfish are given away for free in Wexford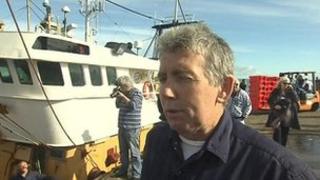 A fisherman in the Irish Republic has given away thousands of euro worth of his catch for free in a protest over a European Union rule that requires fish that are over-quota to be thrown back in the sea.
Seamus O'Flaherty, is the skipper and owner of the Saltees Quest boat.
He gave away monkfish at Kilmore Quay in Wexford on Thursday.
This was after the vessel exceeded its quota of monkfish.
EU regulations stipulate that if a crew of a vessel catches more than their quota, the surplus is discarded at sea.
Mr O'Flaherty said there were "more monkfish in Ireland than ever before".
"My boat is only allowed to catch six tonnes of monkfish a month, but we can catch that in a week," he said.
"It would have been worth 15,000 euros to us but it's not about the money, it's a sin to be discarding fish."
'Dumped'
The skipper and his crew collected the fish, sorted them into 130 boxes and left them on Kilmore Quay to be given away free to the public.
The Sea Fisheries Protection Authority (SFPA), the statutory body in the Irish Republic that enforces fishing regulations, condemned the actions of the crew.
In a statement, the SFPA said that if vessels are exceeding their quota, a "prudent response" would be to change "fishing grounds or fishing techniques to try to avoid unwanted catches in the first instance".
"The SFPA officers knew we had a lot of monkfish on board and had warned me I'd be arrested, but I decided to leave the fish on the quay wall and anyone who wanted it could pick it up for free," Mr O'Flaherty added.
"As far as I'm concerned the authorities don't mind seeing it dumped as long as no-one knows about it.
"I wanted to draw attention to what's going on."