Russia to become Iraq's second-biggest arms supplier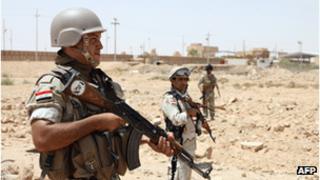 Iraq has signed contracts to buy Russian arms worth $4.2bn (£2.6bn; 3.2bn euros) this year, Russian news agencies report.
Moscow, the main supplier of arms to Iraq under Saddam Hussein, thus becomes the country's second-biggest arms supplier after the US.
The new contracts were announced after talks between the two countries' prime ministers near Moscow on Tuesday.
Reports suggest attack helicopters and missiles are included in them.
Iraq has been rebuilding its armed forces since the end of US-led combat operations against insurgents.
Thirty Mi-28 attack helicopters and 42 Pantsir-S1 surface-to-air missile systems are said to be among items being sold.
Further discussions are said to be under way for Iraq eventually to buy MiG-29 jets, heavy armoured vehicles and other weaponry.
The contracts were negotiated during visits to Russia by Iraq's acting Defence Minister, Saadoun al-Dulaimi, in April, July and August.
"The delegation members familiarised themselves with the Russian military production, discussed the technical and commercial options of the offer with Rosoboronexport [state] supplier, and signed contracts worth more than $4.2bn," said a joint statement by Russian Prime Minister Dmitry Medvedev and his Iraqi counterpart, Nouri Maliki.
Earlier this week, Mr Maliki explained in a speech that he did not want Iraq to be "part of someone else's [arms export] monopoly."
"We have good relations with the United States and Iran. We do not want to live surrounded by constant conflict. We buy weapons based on the needs that we feel we have," he added.
Iraq clearly wants to diversify its weapons purchases - a step that will only encourage the sense in Washington that the US is somehow "losing Iraq", says the BBC's defence and diplomatic correspondent Jonathan Marcus.
For the Russians these arms sales are a useful foot in the door in Baghdad - a way of bolstering Moscow's position at a time when the future of its close ties with the Assad regime in Syria must be in doubt, our correspondent says.