Increased penalty points in Ireland for driving offences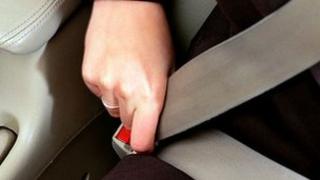 Irish Transport Minister Leo Varadkar has said he would like to increase penalty points for motorists not wearing seat belts and driving while using a mobile phone.
Figures show that more than 600 drivers a week in the Republic of Ireland have been caught using their mobile phones while driving this year.
"When it comes to mobile phones it's extremely dangerous, extremely distracting and you just need to walk down the street to see the number of people who think it's entirely appropriate to send text messages or answer the phone while driving," he said.
The measures will be outlined in the new Road Traffic Bill 2012 and will take effect next year.
In another move, from 2015 drivers in Northern Ireland and the Republic will no longer be able to avoid penalty points in each other's jurisdiction.
Mr Varadkar and Northern Ireland's Environment Minister Alex Attwood have agreed a timetable for the drafting, passage and enactment of parallel legislation between the jurisdictions by 31 December 2014.
The number of traffic offences attracting penalty points in the Republic of Ireland will be increased to 48 from midnight on Thursday.
All but one of the new offences concern the use of seat belts.
Four of them relate to ensuring that children are properly restrained in cars.
Drivers will now face penalty points if children are not in the appropriate child restraints, such as child or booster seats.
Points now also apply in cases where a child in a rear-facing child seat is placed in the front of the car close to an active airbag.
Motorists already faced penalty points for having a child under 17 in a car without a seatbelt.
Truck and bus drivers will also face penalty points if caught driving while not wearing a seatbelt.
The clampdown comes as the latest Road Safety Authority figures show that 23% of drivers and 29% of passengers killed in the first six months of this year were not wearing seat belts.
Speaking on RTE's Morning Ireland, Mr Varadkar said it was amazing in this day and age that people were still not wearing their seat belts.