Albania ex-prisoners stage fire protests over payments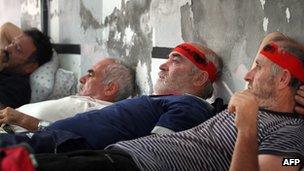 A former political prisoner in Albania is being treated in hospital after deliberately setting himself on fire - the second such case this week.
Lirak Bejko, 47, suffered severe burns on Wednesday, as did Gjergj Ndreca, 51, who set himself ablaze on Monday.
They are among 20 former communist-era dissidents who began a hunger strike 19 days ago. They say the government has failed to pay them agreed compensation.
Meanwhile, the EU says Albania has made progress in its bid to join the bloc.
The European Commission says Albania has achieved "stronger cross-party agreement" on key reforms necessary to qualify for EU membership.
But candidate status - an important milestone on the road to membership - will only be granted if Albania completes "key judicial and public administration reform measures", it says.
Under a law passed in 2007 Albania's former political prisoners are entitled to compensation of 2,000 lek (£11.50; $19) for every day that they spent in prison.
The hunger strikers in the capital Tirana accuse the government of failing to deliver that entitlement.
Skender Tufa, head of the association of former political prisoners, said the two self-immolations were "desperate acts" by people he described as "walking corpses, deprived of any dignity".
Tens of thousands of people were executed or imprisoned in labour camps during the decades-long communist rule of Stalinist leader Enver Hoxha.
Related Internet Links
The BBC is not responsible for the content of external sites.