Turkey bans all Syrian flights over its territory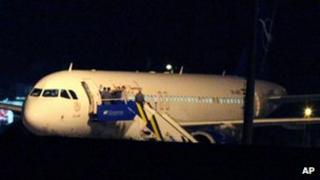 Syrian planes have been banned from Turkish air space, the Turkish foreign ministry has announced.
The ban follows similar restrictions imposed by Syria, after a Syrian plane alleged to be carrying Russian munitions was intercepted by Turkey.
Turkey's ban came in on Saturday night and was communicated to Syria, but was only made public on Sunday.
It applies to civilian aircraft, as military aircraft were already de facto banned, a ministry official said.
The Syrian move followed Turkey's interception on Wednesday of a Syrian jet, which Turkish warplanes forced to land in Ankara.
Turkish officials confiscated what they described as munitions bound for Syria's defence ministry - an allegation disputed by Damascus.
At the time, Turkey warned its own civilian airlines to avoid Syrian air space as a precaution.
Until last year, Turkey and Syria were close allies, says the BBC's James Reynolds, near the Turkey-Syria border.
Now the only things that they still share are a border of 500 miles and an increasing sense of mistrust, our correspondent says.
In June Syria shot down a Turkish warplane, it said by accident, after the jet crossed into Syrian airspace.
Now those same skies will be watched even more closely, our correspondent adds.
Sparks between neighbours
Tensions have been recently rising between the two countries after a series of cross-border incidents.
Last week, there were several days of firing across the border after five Turkish civilians were killed by Syrian shelling.
Turkey's government has backed the Syrian opposition and called for the resignation of President Bashar al-Assad.
While Turkey may not be at war with Syria, correspondents say it is now increasingly involved in its neighbour's conflict.
On Saturday, the UN-Arab League envoy for Syria, Lakhdar Brahimi, held talks in Turkey, meeting Foreign Minister Ahmet Davutoglu to hear Turkey's perspective on the crisis.
Meanwhile Turkish Prime Minister Recep Tayip Erdogan told a conference in Istanbul that the UN's failure to act in Syria gave President Bashar al-Assad the green light to kill tens or hundreds of people every day.
President Assad's government accuses Turkey, along with Saudi Arabia and Qatar, of arming the rebels.
However, Syria has said it is ready to set up a joint committee to oversee security on the border.
Its foreign ministry said it had been discussing with diplomats from Russia, a key ally, the idea of a Syrian-Turkish security committee to avoid misunderstandings at the border, which would establish a "mechanism for surveillance of the border while respecting national sovereignty".
On Sunday there were artillery attacks in the contested northern city of Aleppo for a second day, following the deaths of at least two people there on Saturday, according to Syrian opposition activists.
The Syrian army was reported to have regained control of a historic mosque in the city after fierce clashes with rebels.
Clashes were also reported between Syrian troops and rebels near the northwestern town of Maaret al-Numan, where the fighting was for control of a highway linking Damascus to Aleppo.