Ruling coalition wins Montenegro election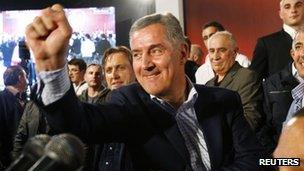 Montenegro's ruling coalition has won parliamentary elections and is set to stay in power, but fell short of an outright majority.
The coalition led by veteran politician Milo Djukanovic secured about 46% of the vote, well ahead of the opposition with some 23%.
The results were not final but based on nearly all votes counted.
Mr Djukanovic's bloc's win is its third in as many elections since Montenegro won independence from Serbia in 2006.
"This is a great victory," Mr Djukanovic said after Sunday's vote.
"Montenegro's ruling coalition is a rare one in Europe that has maintained confidence of voters in such difficult times of crisis," he added.
Mr Djukanovic's European Montenegro coalition is now projected to secure about 39 seats in the 81-member parliament.
The main opposition Democratic Front is set win 20 seats, with the pro-Serb Socialist People's Party expected to have nine.
Official results were expected later on Monday.
However, analysts already predict that the governing coalition will not be able to rule alone and will turn for support to minority groups in parliament. They may include Bosniak and Croatian parties.
Despite accusations of corruption, the government is credited by many in the tiny Balkan country for opening accession talks with the European Union earlier this year.
Related Internet Links
The BBC is not responsible for the content of external sites.