Bosnia pilot census a test for landmark population count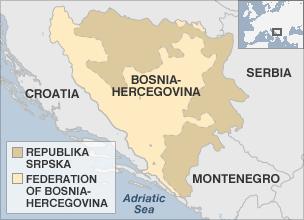 Bosnia has launched an internationally monitored pilot census to prepare for its first population count since its 1992-5 civil war.
The conflict was part of the break-up of Yugoslavia, and forced nearly half of the country's inhabitants to flee.
The test run will determine if Bosnia is ready to conduct a fully-fledged census in April 2013, officials said.
Having up-to-date population data is a requirement key for the nation to eventually join the European Union.
The two-week pilot census, due to end on 29 October, will question some 15,000 people in Bosnia's post-war entities, the Bosnian Serb Republic (Republika Srpska) and the Federation of Bosnia-Hercegovina.
The country's last population count was held in 1991 when it was still part of Yugoslavia. The census found there were almost 4.4 million inhabitants living in Bosnia at the time.
The breakdown revealed 43.7% were Bosniaks (Bosnian Muslims), 31.4% Serbs, and 17.3% Croats.
But the three-year war between Croats, Muslims and Serbs led to significant demographic changes.
The conflict killed about 100,000 people and forced around 2.2 million people to flee their homes.
"We didn't have a census for 20 years, so we don't have an opportunity, like other countries in the region and EU, to compare it with past results and fix mistakes," the director of the Bosnian Statistics Agency, Zdenko Milinovic, said.
He added that the test would help to determine the quality of data-gathering methods.
The results of the pilot census will affect the decision of the International Monitoring Commission on whether to advise the Bosnian government to go ahead with the full census next April, or postpone it, a spokesman for the European statistics agency Eurostat said.
According to 2010 United Nations estimates, Bosnia-Hercegovina is home to some 3.8 million people.
It is now an independent state, but under international administration.
The 1995 Dayton peace accord, which ended the Bosnian war, set up two separate entities; a Bosniak-Croat Federation of Bosnia and Hercegovina, and the Bosnian Serb Republic, or Republika Srpska, each with its own president, government, parliament, police and other bodies.