Corsica lawyer Antoine Sollacaro shot dead in Ajaccio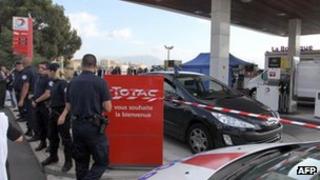 One of the most prominent lawyers on the French island of Corsica has been shot dead on his way to work.
Antoine Sollacaro defended a number of leading nationalists, including Yvan Colonna who was convicted of murder.
The 63-year-old lawyer was attacked by two men on a motorcycle when he stopped his car at a petrol station in Ajaccio on the west coast of the island.
He is the 15th victim this year of what officials believe is a war between criminal gangs.
The body of Jean-Dominique Allegrini-Simonetti, a former nationalist militant, was discovered in a mountainous region of Corsica an hour earlier.
Mr Sollacaro was a high profile figure in the Corsican separatist movement, the FNLC, but had split with the nationalist leadership in recent years.
He defended Yvan Colonna who is serving a life sentence for the 1998 murder of Claude Erignac, the island's prefect and most senior political figure.
During one of Colonna's three trials in France, Mr Sollacaro compared the court in Paris to a "Burmese junta".
France's Interior Minister Manuel Valls condemned both of Tuesday's killings and promised Corsicans that "the fight for the security is carried out with the greatest resolve".
Police have so far not identified any clear motive for either murder but BBC Paris correspondent Christian Fraser says violence in Corsica is as much linked to gangland control of the black market as it is to the ongoing battle for independence.